Considered one of Hornsby and the Upper North Shore's leading martial arts clubs, we pride ourselves on teaching our students a full range of authentic Muay Thai, Kickboxing, Brazilian Jiu-Jitsu, MMA and Wing Chun skills.
We train hard, intelligently, without egos or expectations. Come and join us for a class today.  All new dedicated training centre at 1 Leighton Place Hornsby. Classes for all ages and abilities.
HEAR FROM OUR GYM MEMBERS
The team at SKM Martial Arts in Hornsby NSW live and breathe martial arts and has become a staple gym in the Upper North Shore in the Muay Thai, Kickboxing, Wing Chun Kung Fu and Brazilian Jiu-jitsu scenes.
We are a friendly bunch as SKM Martial Arts, where we leave our egos at the door and hop onto the mats with an open mind. Hear from students just like you as we look forward to welcoming you at one of our free trials at our Hornsby gym.
 "Our philosophy is simple; Martial arts should be an equal balance of fun, fitness, self-defence, progression and commitment."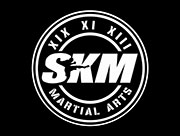 - Stewart, Kelsie and the team at SKM Martial Arts
The professionalism plus the welcoming atmosphere has been second to none. My two children (4 & 6) love going and so do I.
Thank you for encouraging individual excellence and strength of character!
- Kelly E.
I could not think of a better program to send my son too. Great team which understand the importance of respect, discipline, fitness and positive values. The program is so good I had to sign up myself for an excellent work out! Do yourself a favour and check them out!
- David P.
I am very much delighted to see my wife and daughter's determination to go to SKM Martial Arts for training regularly. Their determination motivates me to train hard and keep fit.
I highly recommend SKM to anyone who wants to start their martial arts journey.
- Nagarjuna P.
Professional. Experienced. Clean. Family friendly. Great with kids. Well priced. Friendly staff. Knowledgeable staff.
I highly recommend Stew, Emma and the team at SKM.
Not your average martial arts, SKM are above and beyond my expectations.
- Bec S.
Amazing teachers. My son loves going here. Great families, I have met some truly exceptional parents of the kids attending the classes.
All round - Fantastic life changing experience.
- Jonathan D.
SKM COMMUNITY PROGRAMS
Not looking for a gym but interested in a session, seminar or workshop?
We got you covered – the team at SKM Martial Arts in Hornsby NSW has developed a comprehensive list of custom programs and workshops around your needs with its Community Programs.
At SKM Martial Arts, we offer community programs such as 
Get in touch with a friendly SKM Martial Arts team member and we'll be happy to help!